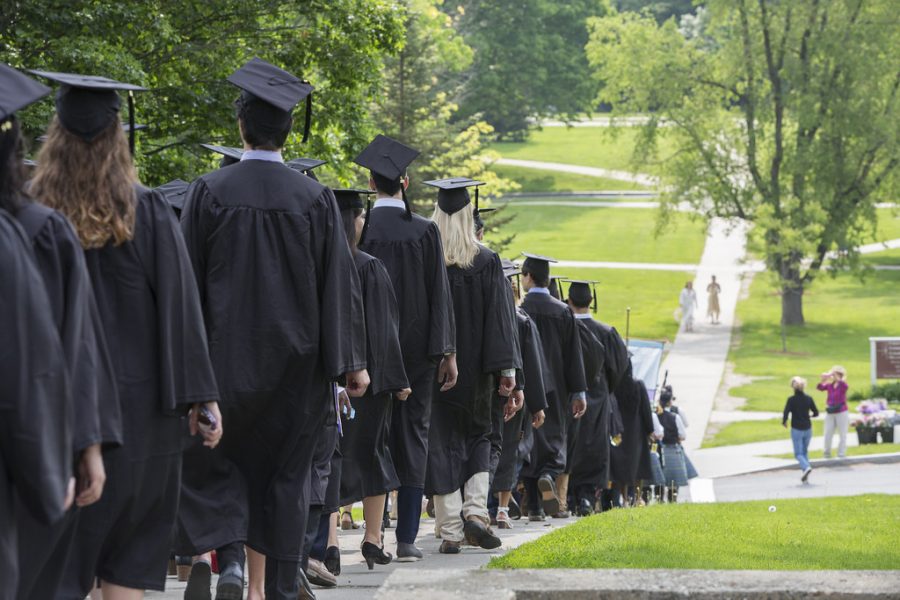 Class of 2022 Awards and Scholarships – The Williams Record
Based on a list provided by the Dean's office.
National scholarships:
Fulbright Grant
for one year of study or research abroad in any discipline or teaching English.
Emily M. Bleiberg, Jacob M. Eisner, Emily J. Marquis, Abigail C. Matheny, Rebecca J. Park, Nicholas F. Servedio
Congress-Bundestag youth exchange for young professionals
for a year in Germany devoted to studies, internship and living with hosts as part of a cultural immersion program.
Kailyn N. Gibson
National Science Foundation Scholarship
awarded to outstanding college and university students for graduate study in science, mathematics, and engineering.
Liza J. Jacoby
Williams College Scholarships:
Allen Martin and Carrol A. Wilson Scholarship
Alicia G. Smith Reina
Allison Davis Fellowship
awarded to students interested in pursuing doctoral studies to enable them to conduct research on campus.
Nicole M. Alvarez, Kailyn N. Gibson, Devon N. Parfait, María José Román, Blain Solomon
Class of 1945 Florence Chandler Fellowship
for a year of travel abroad, which the students dedicate to personal and intellectual development.
Noah O. Hirsch Savage
Stephen D.Willis
Dr. Herchel Smith Fellowship
for two years at Emmanuel College, University of Cambridge.
Jayalakshmi N. Alagar, Rebecca G. Brody, Maya I. Huffman, Michelle PP Laker, Kofi J. Lee-Berman, Connor P. Middleton, Clare BB Rogowski, Benjamin N. Weinstein, Isaac J. Wilkins
Frederick Eugene Stratton 1871 Fellowship in Biology
Nicole M. Alvarez
Patrick R. Hodgson
Horace F. Clark, 1833, fellowship
awarded on the basis of superior scholarship, general ability and interest in scholarly inquiry.
Jason C. Meintjes
Hubbard Hutchinson, Class of 1917, Memorial Scholarship
for demonstrated exceptional talents in the creative arts.
Nadiya L. Atkinson (Theater), Noah R. Jacobson (Music), Joseph P. Messer (Art), Shalya JS Powell (Writing), Ashley Z. Xu (Dance)
Mellon Mays Undergraduate Scholarship
awarded to African American, Latino/a, or Native American students who show academic potential and commitment to pursuing doctoral degrees.
Armanis J. Fuentes, Reid T. Kurashige, Shalya JS Powell, Kaylen D. Smith
Ruchman Student Scholarship
for seniors who demonstrate a commitment to higher education and who intend to pursue a teaching career at the college level.
Reid T. Kurashige (Philosophy)
Lara Lee Meintjes (English)
Price :
Arthur Judson Music Prize
Rebecca L. Kuo
Max R. Thierry
Matthew D. Williamson
Austrian Ministry of Education Teaching Assistant
Reid T. Kurashige
Benjamin B. Wainwright, Class of 1920, English Award
Shalya JS Powell
Bruce Sanderson, Class of 1956, Architecture Prize
Olivia R White
David Harris, Jr., Class of 1963, Political Science Award
Sarina S. Prasad
Charles R. Alberti, class of 1919, prize
Rebecca J. Park
Charles W. Hufford Book Award
Ana M. Strong Garcia
Chuzi-Ianniello Prize in Psychology
Nigel M. Jaffe
Class of 1925 Scholar-Athlete Award
Elizabeth G. Welch
Cultivating Community Award
Argenis Herrera
David A. Wells Prize in Political Economy
Aidan G. Lloyd-Tucker
David N. Major, Class of 1981, Geoscience Memorial Award
Lucia C. Wiggers
Doris deKeyserlingk Award in Russian
Hannah C. Stone
Dunbar Student Life Award
Nadiya L. Atkinson, Noah Cohen-Greenberg, Kayla A. Gillman, Irene B. Loewenson, Joseph P. Messer, Noah O. Hirsch-Savage, Saud Afzal Shafi
Environmental Studies Committee Award
Lyza Berg
Ernest Brown Africana Arts Prize
Faith S. Rodriguez
Ertegun Postgraduate Scholarship Program in Humanities
Emily Y. Chen
Francis Sessions Hutchins, Class of 1900 Memorial Fellowship Award
Melvin C. Lewis
Nicholas F. Servedio
Frederick C. Hagedorn, Jr., Class of 1971, Premedical Award
Shreyas Rajesh
Freeman Foote Prize in Geosciences
Roman D. Ruiz
Gaius C. Bolin, 1889, African Studies Prize
Adna A.Mohamed
Hannah N. Moore
Garrett Wright DeVries, Class of 1932, Romance Languages ​​Memorial Award
Taylor McClennen
Gilbert W. Gabriel, Class of 1912, Memorial Theater Award
Abigail R. Murray-Stark
Ganse Little, Jr. Religion Award
Mukund J.Nair
Henry A. Dwight, Class of 1829, Botany Prize
Aaron I. Stanton
Howard P. Stabler Prize in Physics
Caroline D.Tally
Jack Larned, Class of 1942, International Management Award
Deven A. Desai
Mohammad Anisur Rahman Bali
James F. Skinner Prize in Chemistry
Sonya S. Lee
James Lathrop Rice, Class of 1854, Classical Languages ​​Prize
Katherine M. Hatfield
James Orton Prize in Anthropology
Charlotte GV Hanson
Jean Donati Music Student Employee Award
Alyce Michelle MEA Jamond
Anna K. Leedy
1966 Jeffrey Owen Jones Fellowship in Journalism
Mohazzab Abdullah
John Sabin Adriance, Class of 1882, Chemistry Prize
Maya I. Huffman
John W. Miller Prize for Philosophy
Reid T. Kurashige
Karl E. Weston, Class of 1896, Distinguished Art Award
Kailyn N. Gibson (art history)
Phillip J. Pyle (history and practice)
Javier A. Robelo Castillo (art studio)
Kate Hogan 25th Anniversary Women in Athletics Award
Rachel A. Neugart
Kenneth L. Brown, Class of 1947, American Studies Award
Emma H. ​​Tapscott
Laszlo G. Versenyi Memorial Award
Isaac J. Wilkins
Benjamin B. Wainwright, Class of 1920, English Award
Shalya JS Powell
Leverett Mears Prize in Chemistry
Matthew T. Long
Senior Lin Award in Asian Studies
Julia Chiang (Asian Studies), Naer Qin (Japanese), Thandi E. Steele (Chinese), Guo Hui Yang (Chinese)
Senior Linen Thesis Award in Asian Studies
Hal Olson
Louise J. Ober Theater Prize in Creativity
Mackenzie D. Grace
Morgan Prize in Mathematics
Veronica R. Berger
Muhammad Kenyatta, Class of 1966, Community Service Award
Bless K. Reece
Nancy McIntire Prize in Women's, Gender, and Sexuality Studies
Hannah N. Moore
Olga R. Beaver Memorial Prize in Mathematics
Liza J. Jacoby
Patricia Goldman-Rakic ​​Prize in Neuroscience
Victoria P. Saltz
Purple Key Trophy
Molly C. Craig, James I. Lovette, Robert D. Maimaron, Aidan P. Ryan
Richard Krouse Prize in Political Science
Rebecca E. Coyne
Richard Lathers, Class of 1877, Government Essay Award
Owen C. Foster (Essay)
Elizabeth M. Sandoval Simán (research)
Robert CL Scott Award for Graduate Studies in History
Kaylen D. Smith
Robert F. Rosenburg Award for Excellence in Mathematics
Benjamin M. Baily
Olivia J. Straw
Robert F. Rosenburg Prize in Environmental Studies
Shalya JS Powell
Robert M. Kozelka Award for Statistics
Carter H. Melnick
Robert W. Friedrichs Prize in Sociology
Nicky C. Wu
Russell H. Bostert Dissertation Prize in History
Kaylen D. Smith
Ruth Scott Sanford Memorial Award in Drama
Nicole MacWilliams
1929 Lane Faison, Jr. Award
Eva L. Dailey
Polly H. Ellman
Sam Goldberg Colloquium Prize in Computer Science
Madeline G. Burbage
Sam Goldberg Symposium Prize in Mathematics
Adam B. Dionne (Mathematics)
Jihoon Kim (Mathematics)
Thandi E. Steele (Statistics)
Scheffey Award
Quincy R. Powers
Sentinels of the Republic Government Essay Award
Kevin Zhang Yang
Shirin Shakir, 2003, Political Science Prize
Sonia F. Prasad
Edward Gould Shumway, Class of 1871, English Prize
Sofia E. Jones
Shirley Stanton Music Prize
Jacob M. Eisner
Stanley R. Strauss, Class of 1935, English Prize
Pauline Carla Cochran
Social Justice Advocate Award
Gina Z. Al-Karablieh
Sterling A. Brown, Class of 1922, Citizenship Award
Kaylen D. Smith
The Armando Vargas Prize in Arabic Studies
Imane Rharbi
The Arthur B. Graves, Class of 1858, Essay Prize
Jacob D. Rosenberg (political science), Kathryn B. Holbrooke (art), JiHong Lee (economics), Courtney A. Brown (economics), William A. Kingham (history), Reid T. Kurashige (philosophy), Jay Schroeter ( Religion)
The Chaplains Award for Commitment and Excellence in Interfaith Engagement and Service
Jay Schroeter
The Erastus C. Benedict, Class of 1821, Prize
Georgia L. McClain (biology), Sofia M. Neaher (biology), Gina Z. Al-Karablieh (French), Savion J. Rivers (French), Irfan Durmic (German), Irene B. Loewenson (history), Hal Olson (Story)
The Graves Award for Essay Delivery
Argenis Herrera, Aliya DP Klein, Adna A. Mohamed, Faith S. Rodriguez, Natalie Grace Silver
The James Bronson Conant and Nathan Russell Harrington, Class of 1893 Biology Prize
Rebecca G. Brody
The John E. Sawyer Prize for Transnational and Non-Western History
Hal Olson
The Lawrence J. and Carolyn M. Kaplan Award for Dedication and Leadership at Williams College
Melvin C. Lewis
Arthur Kaufmann, Class of 1899, English Prize
Elizabeth G. Welch
The Michael Davit Bell Prize
Lara Lee Meintjes
The William Sloane Coffin Award for Passionate Public Speaking
Rebecca J. Park
Tom Hardie, Class of 1978, Memorial Award in Environmental Studies
Abigail C. Matheny
Tompkins Prize in Japanese
Naer Qin
Ursula Prescott Essay Prize in Political Science
Kofi J. Lee-Berman
Marriott Canby, Class of 1891, Athletic Scholarship Award
Reid T. Kurashige
Willard E. Hoyt, Jr., Class of 1923, College Athlete Award
Paul O. Leclerc
William Bradford Turner, Class of 1914, History Award
Emma H. ​​Tapscott
William C. Grant Jr. Prize in Biology
Emily K. Lock
Julia H. Pham
William W. Kleinhandler Award for Excellence in Music
Shang-Hsuan Chung, Peter G. Duke, Olivia I. Graceffa, Anna K. Leedy, Thomas A. McGee, Izaki Metrophoulos, Hal Olson, Hemal Patel, Roman D. Ruiz, Preetul Sen, Caroline D. Tally, Dalton Yu
Willis I. Milham Prize in Astronomy
Lauren V. Fossel
Alicia G. Smith Reina
Wyskiel Williams Mathematics Prize
Eyobel A. Gebre
Joseph MC LaRocca
Heidi L. Leeds
If you see that your name or price is listed incorrectly, please contact [email protected]