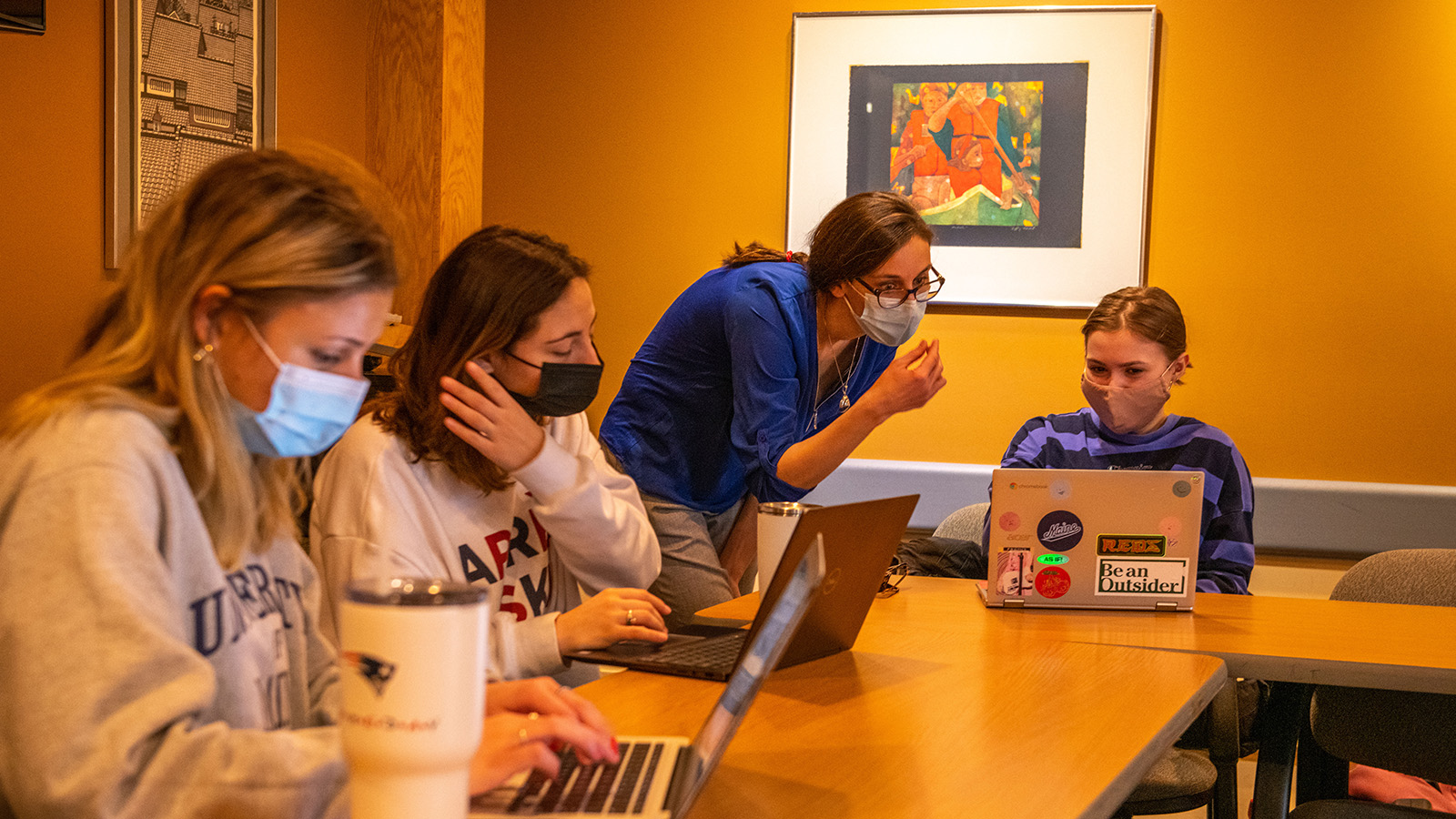 English Internships Supported by Caroline Bicks, Stephen King Fellowships – UMaine News
Caroline Bicks, Stephen E. King Professor of Literature, and Kathyrn Swacha, Assistant Professor of English, have launched a new internship scholarship program designed to provide students with funding to pursue unpaid internships. Five students are currently recipients of the donor-funded Stephen E. King Chair Internship Scholarship, which pays students between $1,500 and $2,500. based on weekly hourly commitments for intern positions that would otherwise be unpaid.
The King Chair Internship Fellowship addresses inequalities in unpaid internships, which can reinforce social disparities by financially preventing students from participating. The program gives student interns the chance to gain work experience in their potential professions and give back to organizations doing important social and community justice work.
Alongside their internship, fellows take an English course with Swacha, Field Experience in Professional Writing, which introduces students to effective professional writing strategies. It provides students with workshop opportunities on writing their internship with their peers, helping them to make connections between their internship work and their wider studies, and coaching them on how to leverage their internship towards a future employment or higher education.
Alex Fountain, a high school education and English double major from Liberty, Maine, is spending her semester interning at the Bangor Humane Society, where she performs a variety of tasks, from administrative work to direct work with animals and writing biographies. of animal personalities for adoption. , as well as sharing pet adoption success stories.
"Without the help of the scholarship, I don't think I would have known of the vast opportunities available to me, especially in the world of writing. To be able to work with such an amazing organization and be able to improve my writing skills, while being supported by the scholarship, is an amazing opportunity," said Fountain.
Chloe Shields, an elementary education student, works with Welcome To Housing Home Goods Bank, a non-profit furniture bank that aims to "help those in need succeed," by providing essential household items to people who do transition to permanent housing. As a professional writing intern at Welcome to Housing, Shields writes a proposal for the Maine Association of Realtors to expand the mission of furniture banks across the state, especially in currently underserved rural areas.
"The opportunity presented by the Stephen E. King Chair Internship to contribute to such a worthwhile mission, while enhancing my own professional skills, has been profound," Shields said.
"The impact an internship can have on future student success really cannot be overstated. For many of these students, completing an internship, receiving the King Fellowship, and getting hands-on experiences in professional writing becomes a turning point for their next steps after graduation. I have seen many students land high-paying jobs in industries directly related to their internships, or tell me that their internship experience is what helped them determine the type of career path they wanted to pursue.
Many of these students have excelled academically, but haven't had many opportunities to apply their studies to work outside of college, she adds. "The value of opening up such opportunities for students who might not otherwise be able to pursue an internship is simply amazing and truly sets us apart from other peer institutions," says Swacha.
The Stephen E. King Professorship Fellowships are supported by the Stephen E. King Professorship in Literature, established at the University of Maine Foundation with a gift from the Harold Alfond Foundation in honor of the substantial work of the former UMaine and its creative impact. Its goal is to advance excellence in the creation, study and appreciation of literature and the humanities.
In addition to recruiting and retaining a top scholar, the endowment fund supports the creation of innovative learning opportunities for students and activities that advance creative writing, literature, and the humanities on the campus and in the community. Shakespeare scholar Caroline Bicks was named to the first King's Chair in 2017.