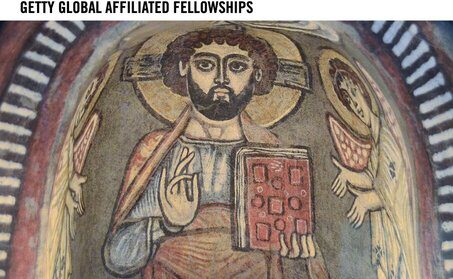 Getty Global Affiliated Fellowships 2022 for art and architectural historians in the MENA region.
Application deadline: September 2, 2022
The American Academy in Rome invites applications for Getty Affiliated Global Scholarships awarded to art and architectural historians and archaeologists who are citizens or residents of Turkey, Egypt, North Africa (Morocco, Algeria, Tunisia and Libya) or the Eastern Mediterranean (Syria, Lebanon and Jordan ) whose research project is dedicated to the study of the wider Mediterranean, incorporating the above regions and countries. Preference will be given to projects that can be carried out in Rome or that would benefit from a stay in Rome. The fellowship program aims to attract a diverse pool of qualified applicants, including those from regions where art history or archeology is an emerging discipline, as well as applicants who have been historically underrepresented or marginalized.
AAR will provide time and space to live and work as part of a multidisciplinary residential community in Rome. AAR aims to broaden our understanding of art history and archeology in the Mediterranean Basin as it relates to Turkey, Egypt, North Africa and the Eastern Mediterranean. In particular, this fellowship seeks applicants who examine previously overlooked artists, movements, communities/peoples, or periods, and whose projects would benefit from archives, collections, artworks, or artifacts located in Rome or Italy.
Terms:
The fellowship is intended for early and mid-career researchers. Predoctoral and postdoctoral researchers are welcome to apply.
All applicants must have excellent command of written and spoken English, which will be confirmed during the interview stage of the selection process.
Advantages
Getty Global Affiliated Fellows are in residence at the American Academy in Rome. All scholarships include single room, board and stipend. Two scholarships will be awarded.
Fellows will live and work at the Academy from February to July 2023 and will be invited to return for a second six-month stay from February to July 2024, if possible.
How to register:
The application process will open on July 1, 2022. The deadline for completed applications is Friday, September 2, 2022 at 11:59 p.m. Eastern Time.
All applicants for the Getty Global Affiliated Fellowship will be considered without regard to race, ethnicity, religious belief, caste, class, sexual orientation, gender identity, disability or veteran status.
The Academy is committed to providing a safe and inclusive environment where fellows' needs are met in a free and nurturing environment, as well as respecting dietary restrictions and religious commitments.
For more information:
Visit the Official Webpage of the Getty Global Affiliated Scholarships 2022