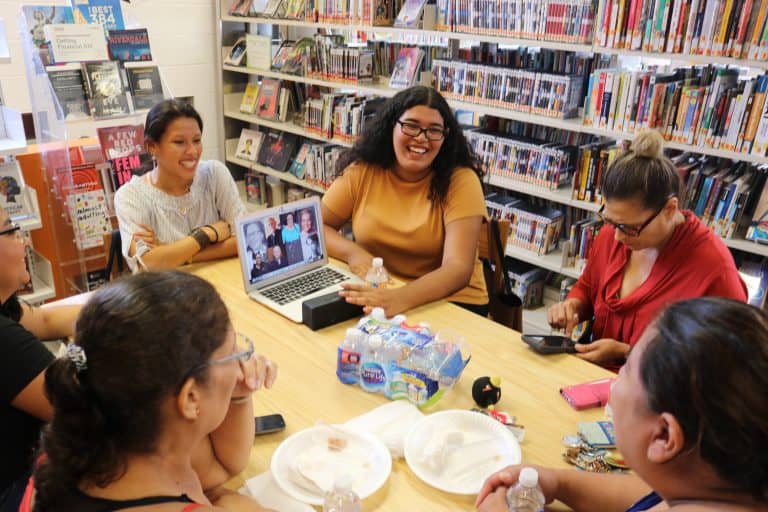 Students engage with Hartford organizations through community learning at Trinity
The classroom extended well beyond campus for students who participated in Trinity College's community learning experiences during the fall 2019 semester. In one occasion, the Community Action Gateway, the first year students year have the opportunity to engage with the City of Hartford through community research and social change projects. After their first year, students can apply for another specialist opportunity: the chance to become Community Learning Research Fellows, who collaborate with Hartford area community partners and Trinity faculty sponsors on research projects. research or creation.
Gateway alumnus Wendy Salto '22 said: "In the Community Action Gateway you can discover those stories from Hartford that you usually wouldn't hear on campus. Once people do community action, I know they can't come back without knowing what's going on in Hartford. Now I feel lucky when I am in a class that has a community component.
The Office of Community Learning, part of Trinity's Hartford Engagement and Research Center (CHER), fosters academic collaborations among Trinity students, staff, faculty and local organizations in the metro area. from Hartford. By integrating the classroom into the local community, students engage with the city in projects that deepen learning, foster civic engagement, and create mutually beneficial relationships with community organizations. Trinity faculty members offer over 20 community learning courses each semester.
Community learning courses include elements of experiential learning, collaborative partnerships, and perspective-building relationships that students form with community partners outside of their classroom to gain new perspectives on local issues. and global. Students who participate in community learning learn to make meaningful connections between their liberal arts education and the lives of community partners in the Hartford area and beyond.
Community action gateway
First year students interested in addressing social inequalities are encouraged to apply to be part of the Community Action Gateway. Students participating in the bridge discover different ways to create social change through experiential learning projects; develop skills to identify and develop solutions to pressing social challenges; and be part of a dedicated community of students, faculty and community partners committed to social change in Hartford and beyond. These students have the chance to design and execute community research and social impact projects related to: education; lodging; economic development; language, culture and identity; and social inequalities.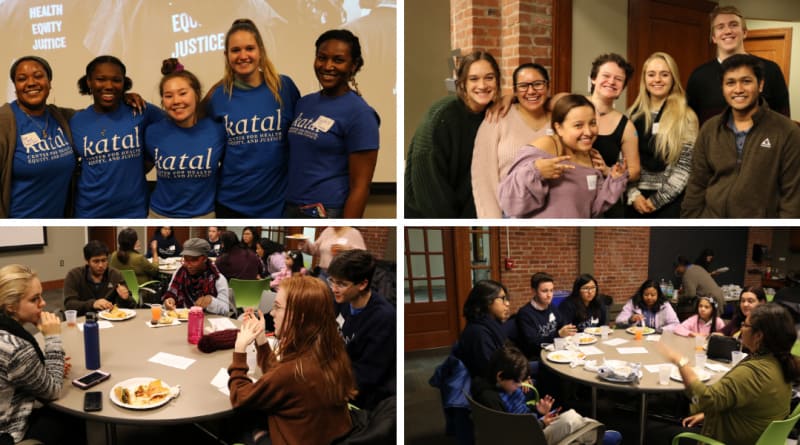 At the end of the fall 2019 semester, Community Action Gateway students shared their latest one-minute video projects they completed with five Hartford community partners: the Connecticut Women's Education and Legal Fund; Fall of the night; Take the CT route; Public Allies CT; and the Katal Center for Health, Equity and Justice. The room was packed with community partners, current Gateway students and alumni, as well as CHER team members who enjoyed dinner together and reflected on the different ways social change is happening in Hartford and how. tell this story.
Makayla Boucher '23, who spent the semester working with the Katal Center on "community organizing and empowerment," said, "As someone who wants to continue learning more about non-profit organizations. profit and community organizers and seeing how they change the communities around them, working with Katal has been such an inspiring experience. Seeing that change can start with just a little community conversation, then change policy and affect so many people, was truly inspiring. "
After working with the Connecticut Women's Education and Legal Fund on "Legal Education, Public Policy, and Leadership," Reagan Flynn '23 said, "When you first start community action, it can be overwhelming. to meet so many new people and understand buses and how to get around and shoot for a video, but then you meet your community partners and build your own relationships and go out to Hartford. I really wish more people had this kind of experience when they started college.
Community learning researchers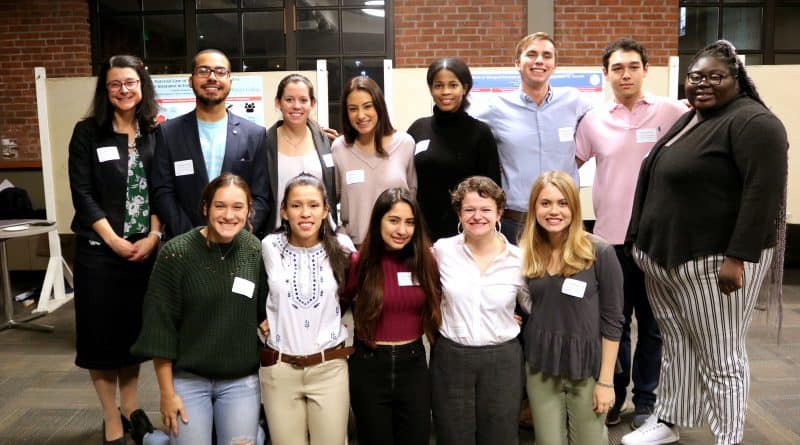 Research fellows work alone or in small teams on one-semester or one-year projects, which must be linked to a credit activity – an independent study, an internship, a community learning course or a thesis / project senior – supervised by a faculty sponsor during the fall semester. Community partners can include nonprofit organizations, neighborhood advocacy groups, government agencies, or educational institutions. To be eligible to apply for this competitive program, Trinity students must be sophomores, juniors, or seniors who have previously taken a community learning course or participated in a community engagement project while studying at the foreigner.
Each week, fellows explore topics such as: identifying a question and designing a research project; communicate a research plan; develop good interview skills and techniques; analyze and visualize data; design visual presentations and posters; and manage expectations and meet challenges in collaborative projects. Throughout the semester, fellows worked closely with Associate Professor of Psychology Laura Holt '00, TA Samantha McCarthy '21, Community Consultant James Jeter (a student in the Trinity Individualized Diploma Program) and Academic Advisors. of Trinity to design and run their community-based research. projects.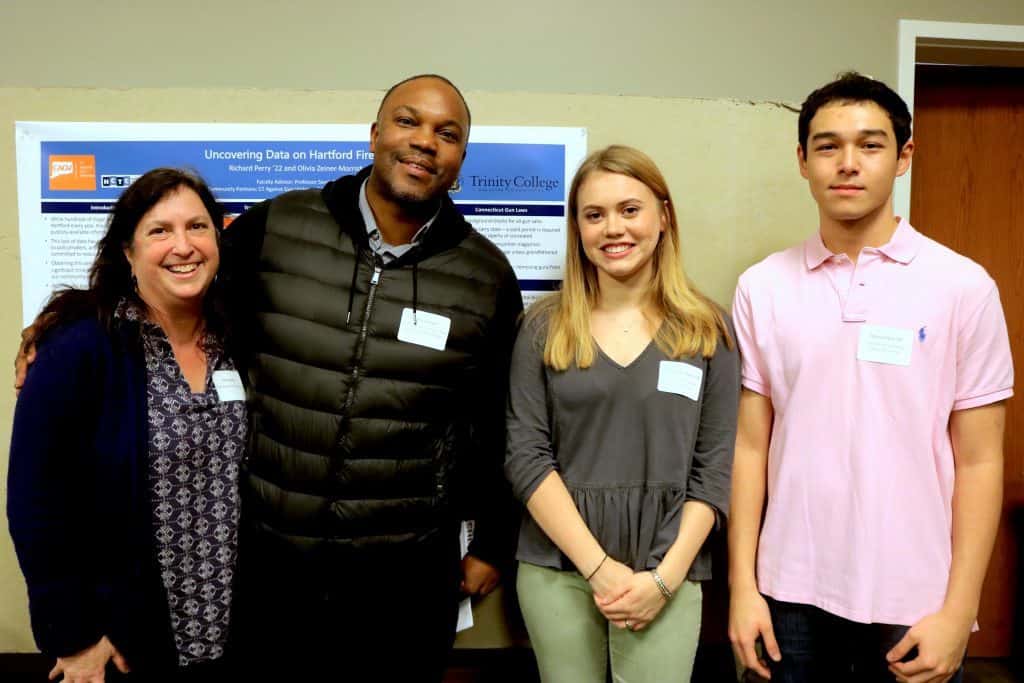 The Community Learning Research Fellows recently presented the results of their semester-long projects at Trinity's Hallden Hall. This semester's fellows and their projects were: Emily Schroeder '20 – "Community College Student-Parents: Experience, Persistence and Results" with CT Early Childhood Alliance (CECA); Isabelle Alexandre '20 – "Examining the Differences in Maternal Care of Women with Medicaid Versus Private Insurance: Phase 1" with YWCA Hartford; Alejandra Zaldivar '20 – "State of Bilingual Education in Hartford: Opportunities for Growth" with Hartford City Councilor Wildaliz Bermudez '04; Jackie Monzon '20 – "Cultural Variation in Parents' Academic Engagement: Testimonials from Jubilee House" with Jubilee House; Brenda Ordonez '22 – "Challenges Faced by Adult ESL Guardians in the Classroom: A Study of ESL Resources at Jubilee House" with Jubilee House; Olivia Zeiner-Morrish '22 and Richard Perry '22 – "Uncovering Data on Guns Collected in Hartford" with CT Against Gun Violence and Hartford Communities that Care; William Tjeltveit '20 – "Modeling Tour to Coltsville National Historic Park" with the National Park Service; Eleanor Faraguna '21 – "Strategizing for Comprehensive Sexuality Education Campaigns in Connecticut" with NARAL Pro-Choice Connecticut; Renita Washington '22 – "What Do Top Socio-Economic Families Appreciate About Child Care?" With the Trinity College Community Child Care Center (TC4); and Manny Rodriguez '20 – "Connecticut Pre-K Policy, Parental Choice, and the Trinity College Community Child Center" with TC4. Click here to see their research summaries and final presentation posters.
"These fellows have played an important leadership role in their own learning this semester and we are delighted to see them join a group of dedicated faculty, staff, students and community partners who are committed to Hartford," said Megan Faver Hartline, Director of Community Learning. .
To learn more about community learning opportunities at Trinity, click here.