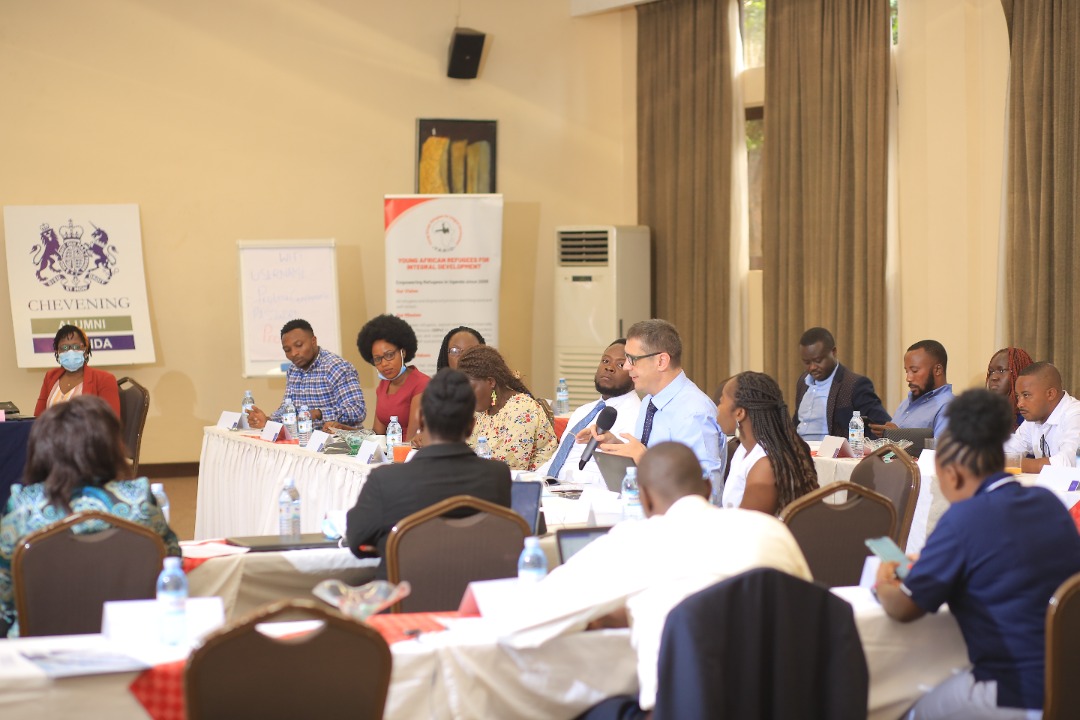 Urban Refugees: Stakeholders Urged to Provide Practical Trainings and Digital Skills to Solve the Poverty Crisis
Experts have proposed to the government and stakeholders to provide life skills and digital skills to urban refugees, in order to solve the poverty crisis among them (urban refugees).
Speaking at a stakeholder engagement meeting on urban refugee issues hosted by the Chevening Alumni Association of Uganda (CAAU) on Friday, Sedrick Murula, a former refugee from DR Congo and the founder of Young African Refugees for Integrity Development (YARID) noted that majority of refugees, if given the necessary skills, can improve their lives and those of their dependents.
He noted that most of those residing in Kampala lack the means to earn a living, which makes it difficult to support their families.
"Unlike those in the camps who are supported by the government and development partners, the urban refugees take care of themselves, they face a language problem, that's why we teach them language classes. English as we know it is general in Uganda and they can speak and fit in with the Nationals," noted Murula.
Murula added that through his NGO they train young refugees in ICT on how to use computers, writing skills and some digital media related programs like Photoshop and how to manage online business.
He said, "70% of refugees and 30% of Ugandans have benefited from our programmes."
The conference, held under the theme "Improving the socio-economic well-being of urban refugees through multiskilling and community outreach," focused on improving the livelihoods of urban refugees in Kampala through ICT and entrepreneurship training.
Meanwhile, Andrew Ockenden, director of development at the British High Commission in Uganda, said Uganda had one of the most progressive refugee policies in the world, adding: "From Uganda, the Kingdom United has observed a new way of dealing with refugees which ensures that their dignity is preserved. »
Ockenden added that through such projects similar to the one run by Chevening alumni in Uganda, they have seen an increase in the number of refugees setting up businesses, which is good for financial sustainability.
Speaking at the same engagement, Hellen Nanteza Kawesa, President of the Chevening Association of Uganda, revealed that she had decided to prioritize urban refugees due to their unique challenges.
"We partnered with YARID to build the capacity of young refugees, gave them training in different areas of law, human rights and entrepreneurship skills to raise awareness in these areas so that they can be self-reliant and strengthen that ability in them because they are young and have the ability to improve their lives," Kawesa said.
Kawesa revealed that as an association, they will equip the training center with 10 computers, pay for Internet for one year.
"It will help them to be able to use these computers to do research and networking and things like that, that's our goal and we hope to work with the stakeholders here, to help us raise this fund, so we want their give the resources and by the end of April we will be able to manage all the computers and a refurbished centre," she said.


Post views:
38