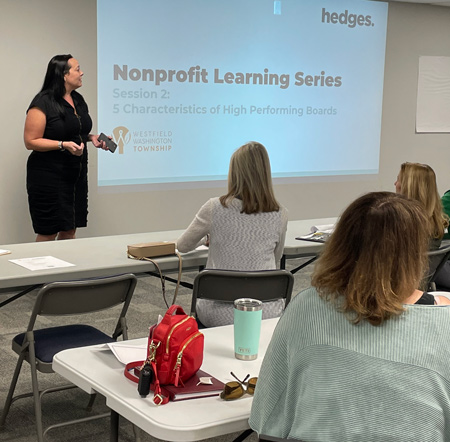 Westfield Washington Township offers nonprofit training – Hamilton County Reporter
Westfield Washington Township (WWT) has partnered with Hedgesa consulting firm in central Indiana, to support capacity building for 10 nonprofit organizations that provide services to Westfield residents.
Four sessions will be offered over a period of four months. Attendees will include board members and staff. Topics include: program design and evaluation, five characteristics of high performing boards, fundraising and digital communications, and fundraising essentials for board members .
Providing this opportunity to nonprofit providers was a goal that WWT administrator Danielle Carey Tolan had been trying to achieve for a few years. She strives to build partnerships and break down barriers for nonprofit organizations.
"This series will allow the township to provide a much-needed training resource for organizations that do an incredible job caring for our residents," Tolan said. "The feedback we received after the first session was very positive and showed us that there is a great need for services like this. Many nonprofits lack the resources to complete training important to their growth and development. »
Jodi Snell is the senior consultant at Hedges leading this program for WWT nonprofits.
"At Hedges, we approach all of our work through what we call the four pillars of organizational health, including programs and impact, leadership and culture, marketing and communications, and finance. and development," Snell said. "We know that for an organization to build capacity and sustain itself, it needs to focus on these four pillars. We created this comprehensive training series to include components from each of the four pillars of organizational health and are excited to partner with Westfield Washington Township to bring this series to Hamilton County.
It was very important to invite staff and board members to this training series. Each position will see training from their own perspective based on their role.
"The Nonprofit Series is a great opportunity to learn the latest trends that we can use to build stronger organizations to serve Hamilton County," said Debbie Laird, Program Board Member. Westfield Youth Aid. "Getting together with other nonprofit leaders gives us the opportunity to share our thoughts, network together, and plan for the future."
"This is a great opportunity for nonprofits to learn from experts and others about how to grow and improve," said Lauren Guynn, executive director of Shepherd's Center of Hamilton County. "It is difficult with limited resources to be able to budget for quality trainings like these, so the support of Westfield Washington Township in providing them to us is incredible. This will have an exponential impact on our organizations and therefore our community.
The Township looks forward to continuing the partnerships that have been cultivated with the nonprofit organizations serving the residents of Westfield Washington Township.
About Westfield Washington Township
Westfield Washington Township was founded in 1834. Its administrator and elected council are responsible for township assistance, fire protection, cemetery upkeep, weed control, and other duties specified by the state legislature. Additionally, the Township of Westfield Washington oversees activities, programs, and events at MacGregor Park and Parks and Recreation for All Ages.